The Real Dogs of Weston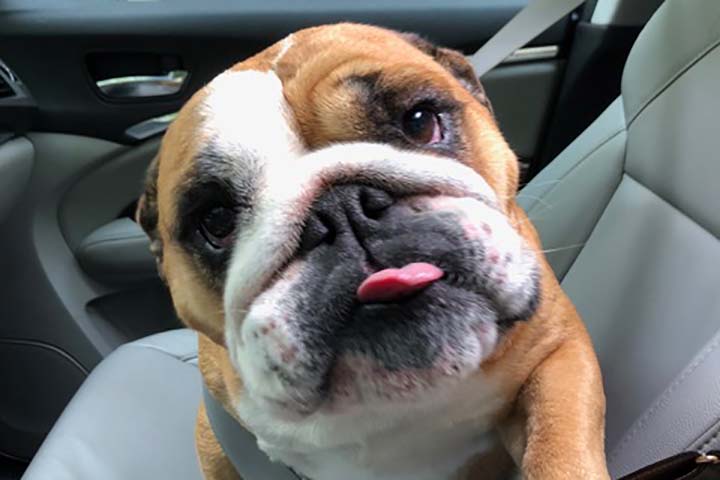 A column just for Weston's canine citizens, sponsored by Passage East Kennels.
Each week, we'll introduce you to a pawsome dog neighbor as well as donate $10 to a local rescue group or animal shelter chosen by their humans. To be featured, please email passageeastwilton@gmail.com.
Smooth as Butter, and even sweeter! Butter the English Bulldog rules the roost at the Koyner house in Weston, where she reigns over her adoring human and chicken subjects. An extremely versatile napper with a tongue so adorable it sometimes refuses to be contained, this happy-go-lucky girl lights up a room with each wrinkle. Be sure to say "hi" if you see her around town (she'd also appreciate a treat).
Name: Butter.
Breed: English Bulldog.
Age: 6 years old.
Family Members: Mom (Hillary), Dad (Ira), human sister (Jessica), human brothers (Dwight and Patton), and 5 chicken siblings.
How We Met: "When we (me) were interested in getting an English Bulldog, I called Dr. Noonan and his advice was: 'If you pick up the dog and the dog does nothing, just lies there, that's the dog for you.' I picked up Butter and she just sort of laid down in my lap and I knew!"
A Few of Her Favorite Things: "Butter likes people - she needs to be around someone all the time. She also likes any food she can get and knows which family member to sit under at the dinner table."
Not a Fan of: "Butter does not like the windshield wipers on the car."
Favorite Spot to Snooze: "Butter can nap anywhere! Her favorite place is wherever we are on the floor - kitchen, family room, bathroom. She is a remarkable sleeper and we admire her for that."
Why She is Our Best Friend: "Butter is always happy and a joy to be around. We love everything about her!"
Donating to: PAWS.
Passage East is a Weston family business owned by Joe & Laura Kaddis for nearly 20 years. We offer compassionate & professional boarding, grooming, and daycare for dogs of all breeds at our spacious, 4 acre retreat in Wilton's Cannondale neighborhood. Born out of a passion for animal rescue, we proudly work with and support local groups to help dogs in need.
Passage East Kennels
499 Danbury Road
Wilton, CT 06897
(203) 762-7998
www.passageeastkennels.com