The Real Dogs of Weston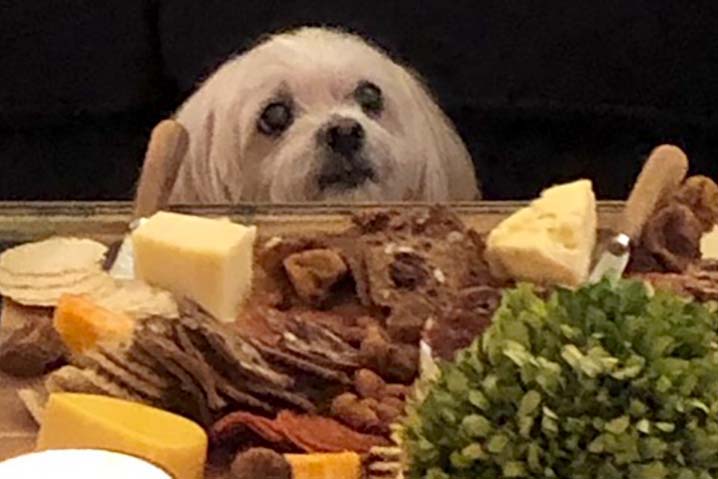 A column just for Weston's canine citizens, sponsored by Passage East Kennels.
Each week, we'll introduce you to a pawsome dog neighbor as well as donate $10 to a local rescue group or animal shelter chosen by their humans. To be featured, please email passageeastwilton@gmail.com.
Meet lovable Leo, the shih tzu/poodle mix destined for life in Weston! This fiercely loyal, irresistibly adorable dog found his perfect home with the Oleynick family, but like so many people who adopt, his mom, dad, and twin human brothers will tell you he's the real rescuer (we think they're all pretty great!). A little guy with a big heart and a ton of personality, Leo loves nothing more than being close to his people and making them smile. Read on to learn how Leo and his family found just what they needed when they found each other.
Name: Leo.
Breed: Shih-poo (shih tzu/poodle mix).
Age: About 8 years young.
How We Met: Leo's family wanted a small dog, but they were a little worried that some of the humans in the house - identical twin teenage sons and their elderly, blind grandmother - might be an issue when applying for adoption. As fate and luck would have it, their home was just perfect for Leo, who came from a similar home situation and was looking for a family with a senior member. Leo and his adopted grandmother quickly became inseparable companions, and his devotion to her until her passing was a true blessing to the entire family.
A Few of His Favorite Things: "His favorite activities include sitting with his human brothers, having his belly rubbed, playing fetch and playing with his many bouncy and squeaky toys."
Favorite Spots to Snooze: "He loves to sleep on the beds with a pillow. He will nap anywhere but really likes it under a certain chair my husband uses at his desk while he is working."
Special Talents: "He is extremely lovable, loyal, and protective!"
Why He is Our Best Friend: "We love absolutely everything about him. He is a rescue but we feel he rescued us and made our lives better in every way."
Donating to: PAWS.
Passage East is a Weston family business owned by Joe & Laura Kaddis for nearly 20 years. We offer compassionate & professional boarding, grooming, and daycare for dogs of all breeds at our spacious, 4 acre retreat in Wilton's Cannondale neighborhood. Born out of a passion for animal rescue, we proudly work with and support local groups to help dogs in need.
Passage East Kennels
499 Danbury Road
Wilton, CT 06897
(203) 762-7998
www.passageeastkennels.com