The Real Dogs of Weston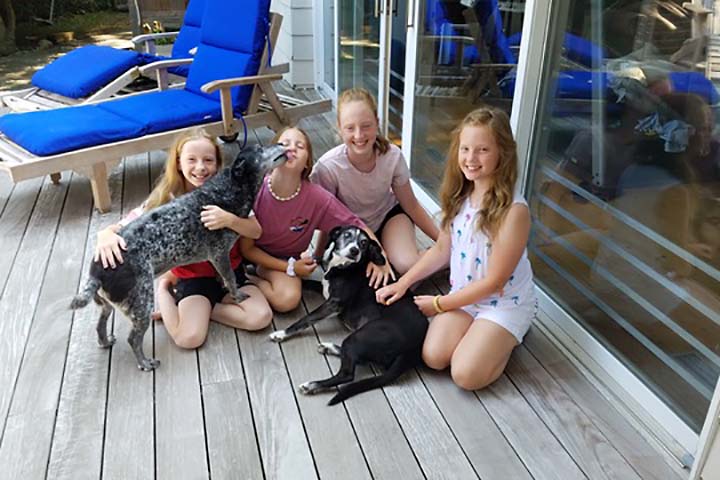 A column just for Weston's canine citizens, sponsored by Passage East Kennels.
Each week, we'll introduce you to a pawsome dog neighbor as well as donate $10 to a local rescue group or animal shelter chosen by their humans. To be featured, please email passageeastwilton@gmail.com.
To kick off the month, we're introducing you to the CEOs (Canine Executive Officers) of Passage East Kennels, Blue & August. This doggy duo had a tough start in life, arriving at the same Connecticut shelter separately from tough situations in the South. Seven years later, they're the best of friends and living it up with long-time Weston residents and Passage East owners Joe & Laura Kaddis and their pack of human sisters, Mary, Amy, Anna, & Rebecca. Read on to learn why it's August (and Blue) all year long at the Kaddis house!
Names: August and Blue. (August was originally named "Elvis" by the shelter, but young Amy had trouble pronouncing it and called him "August" instead. We all decided it was the better name!)
Breeds: Hound mix (August) and Blue Heeler (Blue).
Ages: Both about 9 or 10 years old.
How We Met: "I met Blue and August at SPCA of Connecticut. Blue was so playful and easy to love - she was all butt wags and kisses! Then I saw August come out, sad-eyed and emaciated, and heard his story. He had been found at a mobile park in Alabama after a hurricane, starving and tied to a tree I couldn't even imagine what he must have endured. I knew Blue would get a new family easily, but worried it would be harder to find August a home. Laura and I had agreed to adopt 'just one more dog,' but I came home with both! She was mad for about 30 seconds, and then we all fell in love." - Joe
A Few of Their Favorite Things: "August loves treats and all food and other things edible, as well as inedible - especially socks. If you leave your sock on the ground or anywhere he can reach it, he will eat it. He has also eaten a whole corn cob and had to have surgery. Because he ain't nothin' but a hound dog, August also enjoys singing and can often be found howling along with Joe."
"Blue loves cuddles, belly rubs, chasing chipmunks, and playing with August. She also loves ignoring us when we call her to come inside - she won't come in if she thinks we can't see her."
Not a Fan of: "Blue strongly dislikes foxes and coyotes. She takes her job as guardian of the backyard very seriously, and is somewhat of a workaholic. August is terrified of thunder and also hates getting his paws wet. We think this is a result of his experience being left outdoors during the hurricane."
Favorite Spots to Snooze: "August's favorite spot is Dad's lap. When that's unavailable, he likes to gather up dirty clothing to make 'beddy' so he can smell his people while they're out. Blue prefers to sleep pancaked in between Mom and Dad in their bed. She starts off in Dad's spot and only moves at the last minute when he goes to lie down."
Special Talents: "August can tell the difference between when Dad gets his sneakers ('Time for a walk!') and when he gets his work shoes ('Aw, leaving for the day'). The suitcase, of course, is the worst. Blue is a very good assistant mom to the girls and visits all four of their rooms at night to make sure they are okay before going to sleep."
Why They're Our Best Friends: "We love Blue's energy, happiness, playfulness, and love of life. When she's really happy/excited, her tail wags so hard her butt shakes (we call these 'butt wags'). August has the best eye contact of any dog we've ever met. He reads people like a book. We love his kindness, kisses, and his deep connection to us. Blue and August are very different, just like each of our kids - and we love them all!"
Donating to: SPCA of Connecticut.
Passage East is a Weston family business owned by Joe & Laura Kaddis for nearly 20 years. We offer compassionate & professional boarding, grooming, and daycare for dogs of all breeds at our spacious, 4 acre retreat in Wilton's Cannondale neighborhood. Born out of a passion for animal rescue, we proudly work with and support local groups to help dogs in need.
Passage East Kennels
499 Danbury Road
Wilton, CT 06897
(203) 762-7998
www.passageeastkennels.com