The Real Dogs of Weston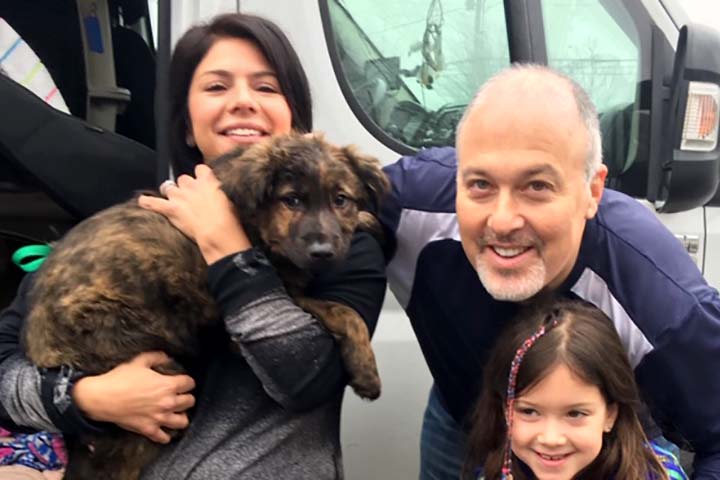 A column just for Weston's canine citizens, sponsored by Passage East Kennels.
Each week, we'll introduce you to a pawsome dog neighbor as well as donate $10 to a local rescue group or animal shelter chosen by their humans. To be featured, please email passageeastwilton@gmail.com.
Chip, Chip, Hooray! Meet Chip, a super-friendly young pit bull/husky mix who proudly adopted the Diamond family of Weston. After a not-so-easy start in South Carolina, Chip now enjoys daily play dates, finding the coolest spot in the house, and lots of love from mom Dayna, dad Lance, and human siblings Drew and Reese. Cuter than a button and able to leap tall fences in a single bound, this super-dog is truly a Diamond in the ruff.
Name: Chip.
Breed: Pit bull / Husky mix.
Age: 2.5 years.
Love at First Sight: "We had only seen pictures and heard wonderful feedback about Chip from the rescue. We didn't meet him until the rescue drove him up to CT from South Carolina. He was as sweet as they said he was and we were so happy to get him in our arms."
A Few of His Favorite Things: "His favorite meal involves steak! Chip also loves to hike and play outside for hours. He has play dates everyday so he's definitely living the good life. His favorite things to play with are squeaky toys and chewing his bones."
Not a Fan of: Getting his nails clipped, going to the doctor.
Preferred Spot to Snooze: The cold floor in our foyer.
Ain't No Mountain (or fence) High Enough: "We have a completely fenced in yard. When we first got Chip, we thought he'd be all set. Well, Mr. Social kept jumping the 4.5 foot fence to get to our neighbor's dog. We had no choice but to invest in an electronic fence. So now we call our house Fort Diamond."
What He's Our Best Friend: "Chip is just full of joy every day. He brings so much happiness to all of us and all of his doggie buddies."
Donating to: Little Black Dog Rescue.
Passage East is a Weston family business owned by Joe & Laura Kaddis for nearly 20 years. We offer compassionate & professional boarding, grooming, and daycare for dogs of all breeds at our spacious, 4 acre retreat in Wilton's Cannondale neighborhood. Born out of a passion for animal rescue, we proudly work with and support local groups to help dogs in need.
Passage East Kennels
499 Danbury Road
Wilton, CT 06897
(203) 762-7998
www.passageeastkennels.com