The Real Dogs of Weston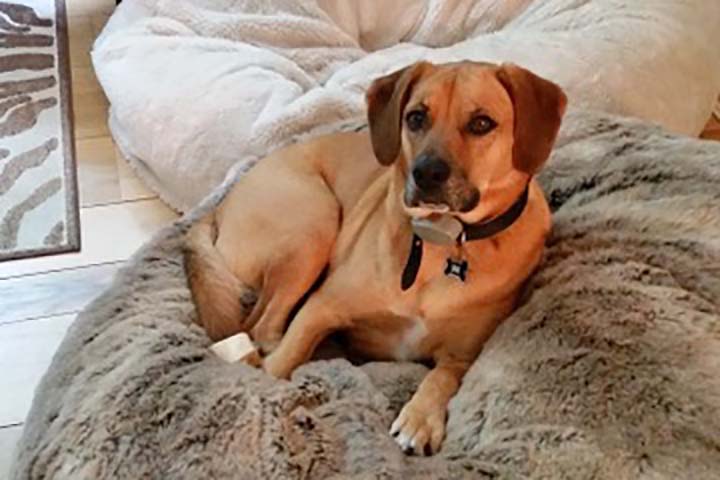 A column just for Weston's canine citizens, sponsored by Passage East Kennels.
Each week, we'll introduce you to a pawsome dog neighbor as well as donate $10 to a local rescue group or animal shelter chosen by their humans. To be featured, please email passageeastwilton@gmail.com.
Meet Neo! This three-year-old rescue is a mixed breed - his exact lineage is unknown, but we do suspect some combination of Adorable, Lovable, and Extra Wiggly. Like his namesake from The Matrix, Neo was destined to be "The One" for his adoptive parents, Shara & David Kolodney, and human siblings Emily & Jack. Unlike Neo from the movie, his fate is not to save the world from evil robots, but to protect his people from trespassing raccoons and strangers - he's been doing a great job so far!
Name: Neo.
Breed: Mix.
Age: 3.
How We Met: "Father's Day 2014 - we met him at his foster home on the Upper West Side. He was the cutest, squirmiest guy in the house. He looked like the cutest puppy we have ever seen. We named him NEO after the character in The Matrix, because he was the one!"
A Few of His Favorite Things: "Steak, salmon, anything grilled! Big bones and squeaky toys. Neo loves to play with his best friend Chip and take long walks with his dad. He is the best greeter - even if you've just gone out to the get mail, he is so happy you are back. He wags his tail so hard his whole tush shakes."
Not a Fan of: Raccoons on his property, strangers in his house, and loud noises scare him.
Preferred Spot to Snooze: The bean bag. And he snores!
The Cutest Patrol Dog: "When Neo leans over the stairs to see who is coming up his whole face falls forward and his cheeks hang around his lips. It's really kinda cute."
What We Love About Him: "He waits for the bus. When Neo hears the bus in the afternoon, he waits by the mailbox for his brother to get off. He likes it when his family is around."
Donating to: Pupstarz Rescue - that's where Neo is from.
Passage East is a Weston family business owned by Joe & Laura Kaddis for nearly 20 years. We offer compassionate & professional boarding, grooming, and daycare for dogs of all breeds at our spacious, 4 acre retreat in Wilton's Cannondale neighborhood. Born out of a passion for animal rescue, we proudly work with and support local groups to help dogs in need.
Passage East Kennels
499 Danbury Road
Wilton, CT 06897
(203) 762-7998
www.passageeastkennels.com