The Real Dogs of Weston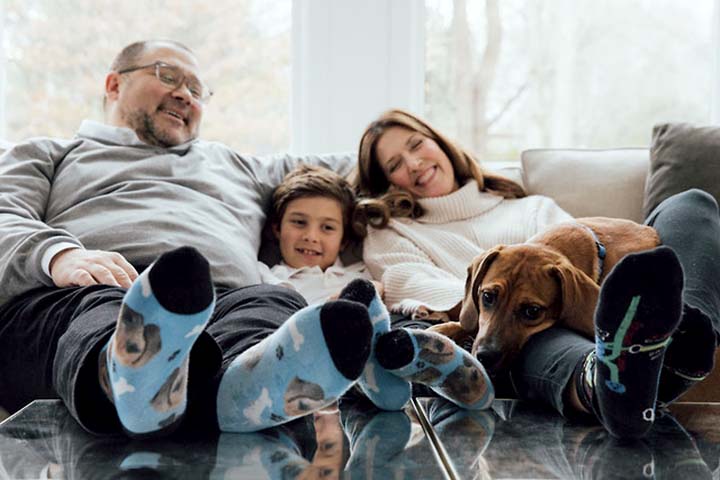 A column just for Weston's canine citizens, sponsored by Passage East Kennels.
Each week, we'll introduce you to a pawsome dog neighbor as well as donate $10 to a local rescue group or animal shelter chosen by their humans. To be featured, please email passageeastwilton@gmail.com.
Meet Nico, a happy hound mix who slid into his new role as the Tas family dog this past year! Originally known as Admiral, Nico was actually fostered by another family here in Weston prior to being adopted by mom Robyn, dad Robert, and human brother Jax. This playful guy and accomplished chewer loves big people, little people, dogs, and Legos - but for his first birthday next month, he would prefer you not bring balloons…or one very specific vegetable.
Name: Nico.
Breed: Hound Mix.
Age: 11 months.
How We Met: "We rescued Nico from the CT Humane Society in Westport when he was 3 months old. I saw Nico's picture online and went to visit him at the shelter while Jax was at school. I immediately fell in love. He was curious, loving, and playful. The Humane Society agreed to hold him until I could bring my son back to meet him. After school, I brought my son and his best friend, Chloe, to meet Nico. Our house is always filled with lots of kids, so it was important that Nico was good around children. Jax as expected immediately fell in love and Nico had no trouble putting Chloe, who is very timid around dogs, completely at ease. So we knew he was the one! We FaceTimed from the shelter with my husband, who was traveling for business, to share the good news."
A Few of His Favorite Things: "People, other dogs, toys (although they don't last long because he is an accomplished chewer), my son's legos, playing in the yard with our neighbor's dogs, taking walks, going for car rides, sleeping with Jax."
Dislikes: Balloons and zucchini.
Twice the Weston Love: One day shortly after we rescued Nico, we went to pick up my son after school. A bunch of fellow students came running over and asked to pet Nico. One girl said, "He is so cute. What's his name?" I said "Nico". She said "Oh. He looks just like this dog my family fostered. His name was Admiral. He had two brothers that we also fostered." I said, "This is Admiral! We changed his name because we all had too much trouble saying 'Admiral'." The girl began to cry. She was so happy to see him again and to know that he found a good home. Small world. We are still in touch with the foster family and feel so fortunate that they opened their home to Nico and his brothers until they were healthy enough to find their forever homes. Foster families are special people!
Special Talent: "My son taught Nico to slide down our play set slide in the backyard."
Why He's Our Best Friend: "There's so much to love about Nico. He is super loving, playful, great with people and kids. He's a good listener and fast learner. He wants to please. He is well behaved, especially for a puppy. We feel very blessed that he came into our lives."
Donating to: CT Humane Society.
Passage East is a Weston family business owned by Joe & Laura Kaddis for nearly 20 years. We offer compassionate & professional boarding, grooming, and daycare for dogs of all breeds at our spacious, 4 acre retreat in Wilton's Cannondale neighborhood. Born out of a passion for animal rescue, we proudly work with and support local groups to help dogs in need.
Passage East Kennels
499 Danbury Road
Wilton, CT 06897
(203) 762-7998
www.passageeastkennels.com