The Real Dogs of Weston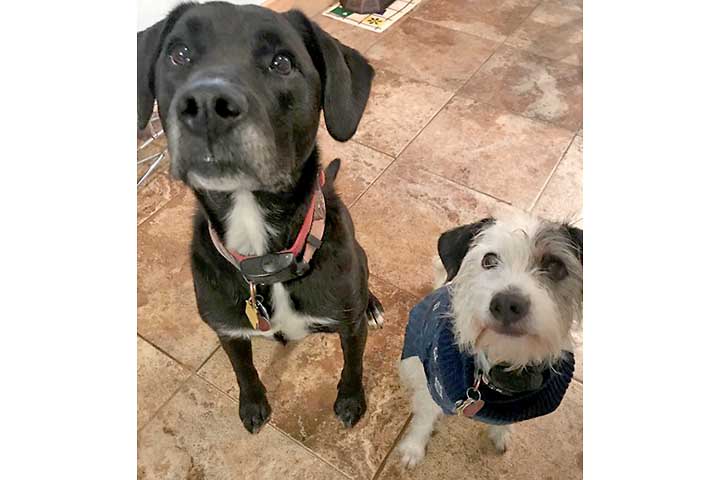 A column just for Weston's canine citizens, sponsored by Passage East Kennels.
Each week, we'll introduce you to a pawsome dog neighbor as well as donate $10 to a local rescue group or animal shelter chosen by their humans. To be featured, please email passageeastwilton@gmail.com.
We've got two for you this week! Maggie, a six year old Boxador (boxer/lab mix), and little brother from another mother, Hunter (rat terrier/wirehaired dachshund mix) are rescues living the good life with their mom, Weston native Cindy Friedrichsen, dad Ken, human siblings Ryan, Elaine, and Peter, cat siblings Midnight and Norris, and parakeet sibling Rigby. These alleged "cohorts in crime" have a shared passion for squirrel chasing and tug of war; Maggie loves her recent couch privileges while Hunter enjoys hitchhiking with FedEx and the pleasures of a good hair blow out in the morning. Read on to find out which half of this dynamic doggy duo always lands on their feet!
Names: Maggie & Hunter.
Breeds: Boxador (Maggie) & Rat Terrier/wirehaired dachshund mix (Hunter).
Ages: 6 (Maggie) and 4 (Hunter).
How We Met: "We got Maggie when she was a puppy from Tails of Courage in Danbury; they were having a dog adoption at Petsmart in Norwalk. Our other dog had recently passed away and we were looking to fill the void - when we saw her amongst all the other dogs, we knew she was the one! Maggie loved going to the dog park in Ridgefield, and we decided it would be fun for her to have a friend to play with at home, so we started to keep an eye out for rescues. We found Hunter through a Facebook post from a friend in Louisiana who, ironically, was being fostered in Connecticut. Took Maggie for a meet and greet and they've been best buds ever since!"
A Few of Our Favorite Things: "They look for a dog cookie every time they come in from outside and love to play tug of war with their toys. Hunter enjoys getting warmed up by the blow dryer every morning even when he's not wet (thin hair!). He also enjoys hopping in the Fedex or UPS trucks! Their passion is chasing squirrels in the yard."
Favorite Place to Snooze: "Hunter needs a lap and Maggie has her spot on a blanket on the couch (which she was never allowed on until Hunter came along, so she's very grateful to him)."
Fun Facts: "Maggie can sit, shake and lie down for a cookie. One time Hunter's seatbelt came undone and he fell out of the open window of the car on School Road. Landed on his feet and just stood there probably saying 'what just happened?!' He was okay!"
Why They're Our Best Friends: "We feel like they are members of our family and they give us unconditional love. Cindy enjoys the company during the day when everyone else is away and has 'someone' to talk to!"
Donating to: Tails of Courage.
Passage East is a Weston family business owned by Joe & Laura Kaddis for nearly 20 years. We offer compassionate & professional boarding, grooming, and daycare for dogs of all breeds at our spacious, 4 acre retreat in Wilton's Cannondale neighborhood. Born out of a passion for animal rescue, we proudly work with and support local groups to help dogs in need.
Passage East Kennels
499 Danbury Road
Wilton, CT 06897
(203) 762-7998
www.passageeastkennels.com