The Real Dogs of Weston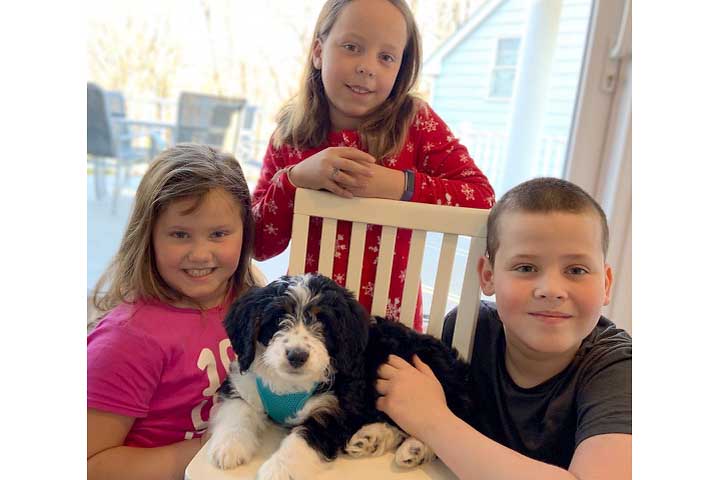 A column just for Weston's canine citizens, sponsored by Passage East Kennels.
Each week, we'll introduce you to a pawsome dog neighbor as well as donate $10 to a local rescue group or animal shelter chosen by their humans. To be featured, please email passageeastwilton@gmail.com.
Newcomer alert! Peyton, Perri, & Cooper (pictured here), along with parents Kimberly & John have lived in Weston for 5 years, but their newest addition arrived just two weeks ago. Playful puppy Freya is already feeling right at home, meeting and greeting her neighbor dogs and making sure her human brother and sisters' laps are never empty. Next steps: understanding what wind is, perfecting her football game, eventually upgrading to larger laps. Welcome to Weston, Freya!
Name: Freya.
Breed: Bernedoodle (cross between a Bernese Mountain Dog & poodle).
Age: 9 weeks.
Likes: Romping and making friends with other dogs; snuggling with her humans; her favorite toy (the football).
Dislikes: "Because she's just a puppy, every sound is so new to hear. When the wind is blowing hard, she just freezes in place and watches the leaves blowing by like it's a tennis match."
Favorite Place to Nap: Prefers children's laps.
Favorite Place in Weston: "Our yard, but can't wait to take her to the Weston Dog Park!"
How we met: "We saw pictures of her mom (a beautiful Bernese) and her dad (a golden-color poodle) on the breeder's website, along with her litter mates. Then the breeder sent us some videos of her playing and we just knew she was the one! She came to us 11 days ago, when she was 8 weeks old, weighing just 8 pounds."
Why she's our best friend: "We love how calm and cuddly she is at night, just curling up with any of us to rest from her very busy day in a home with three kids and lots of friends!"
Donating to: PAWS (Pet Animal Welfare Society) of Norwalk, CT. Want to match Freya's donation? Sit, stay, and visit https://www.pawsct.org/donate.
Passage East is a Weston family business owned by Joe & Laura Kaddis for nearly 20 years. We offer compassionate & professional boarding, grooming, and daycare for dogs of all breeds at our spacious, 4 acre retreat in Wilton's Cannondale neighborhood. Born out of a passion for animal rescue, we proudly work with and support local groups to help dogs in need.
Passage East Kennels
499 Danbury Road
Wilton, CT 06897
(203) 762-7998
www.passageeastkennels.com